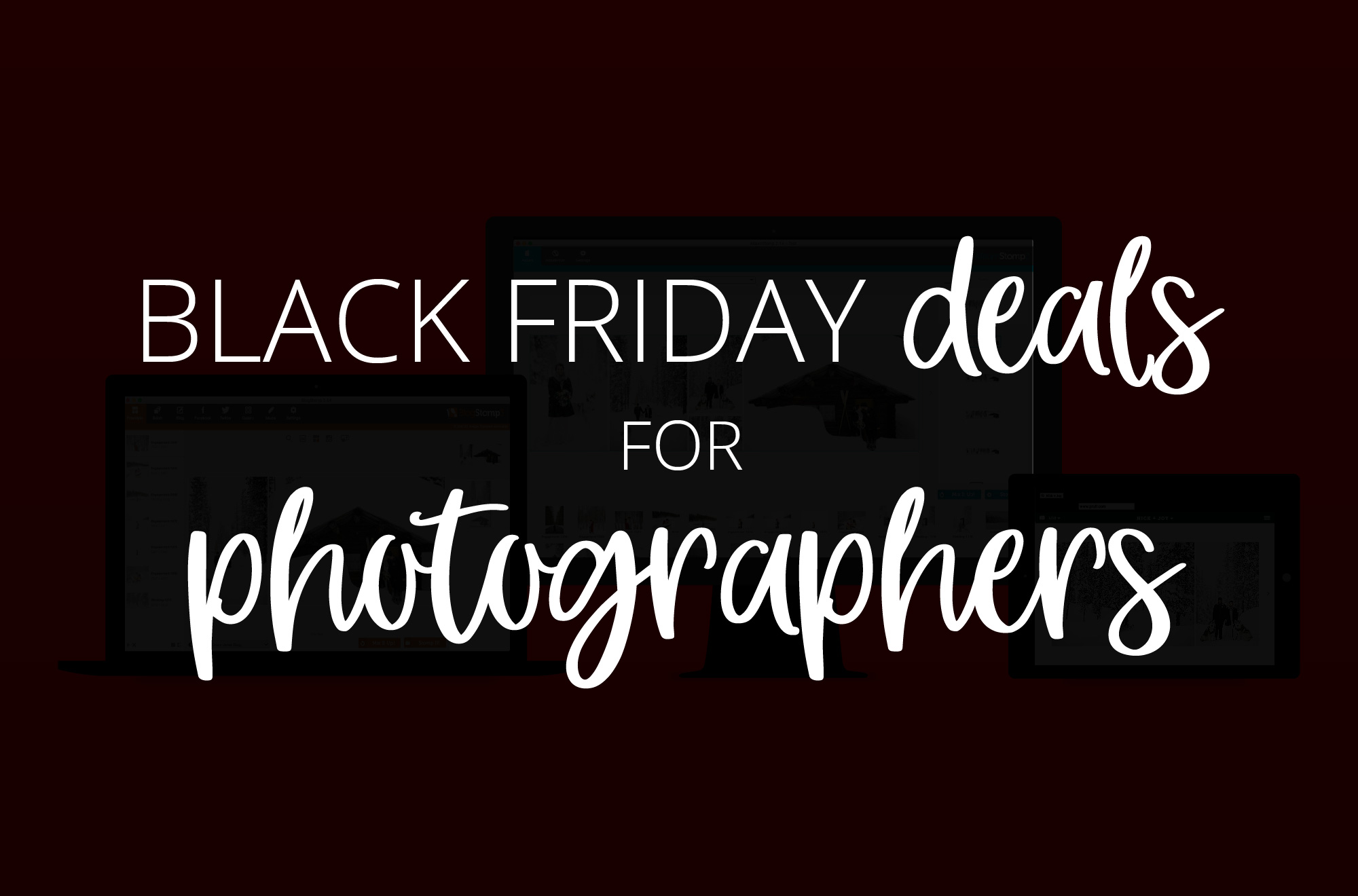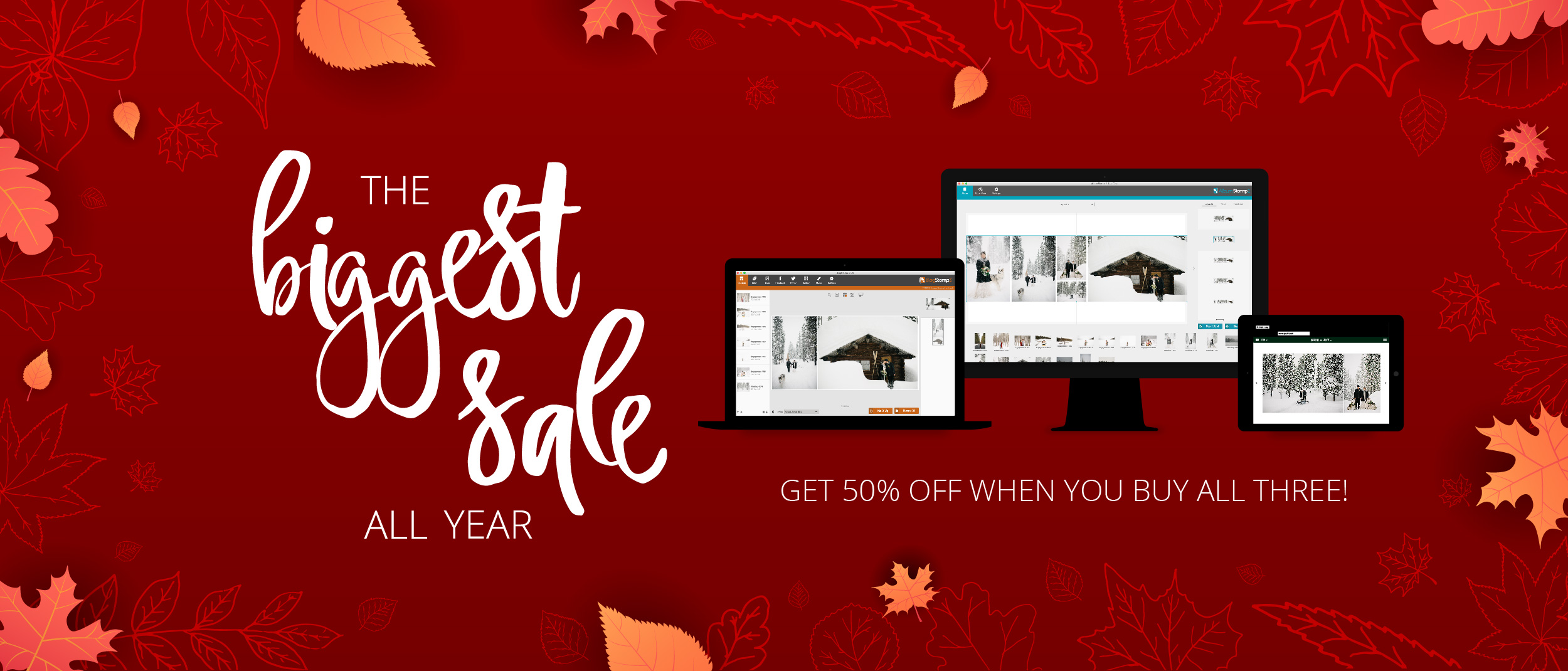 StompSoftware
November 23rd – 26th.
Save 50% when you buy all three products.
BlogStomp3, the All New AlbumStomp and a year of AlbumPrüfr. Our range of Apps help you to get out from behind your computer faster, and enjoy the things you really want to do in life. #HappyStomping.
https://stompsoftware.com/store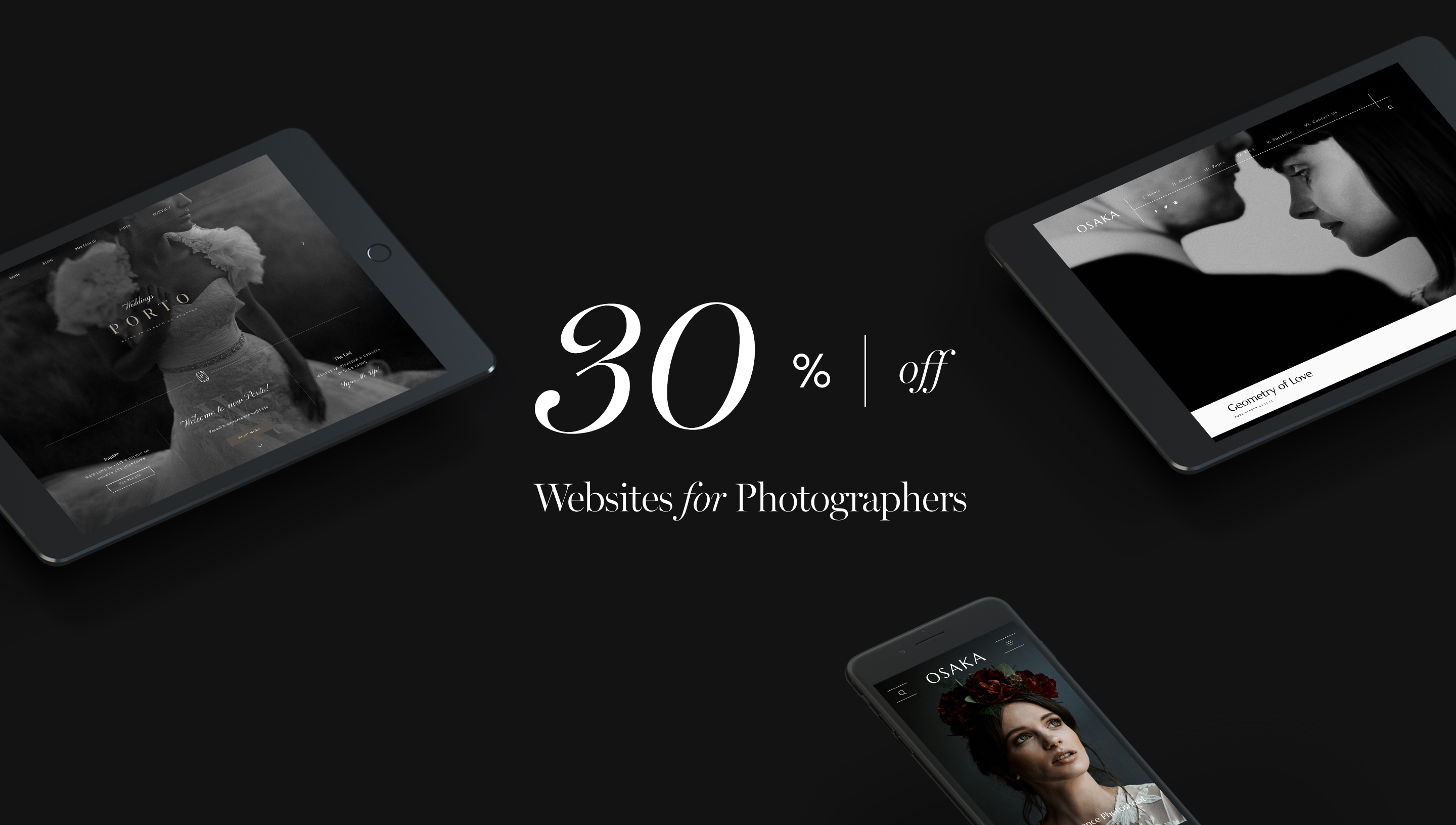 Flothemes
November 19th – 26th.
Get the website you've always dreamed of & save up to $229 for Black Friday!
Flothemes offer easy to customize, responsive, SEO friendly website designs to help you improve your website and boost your sales for 2019!
https://flothemes.com/black-friday-deal-2018/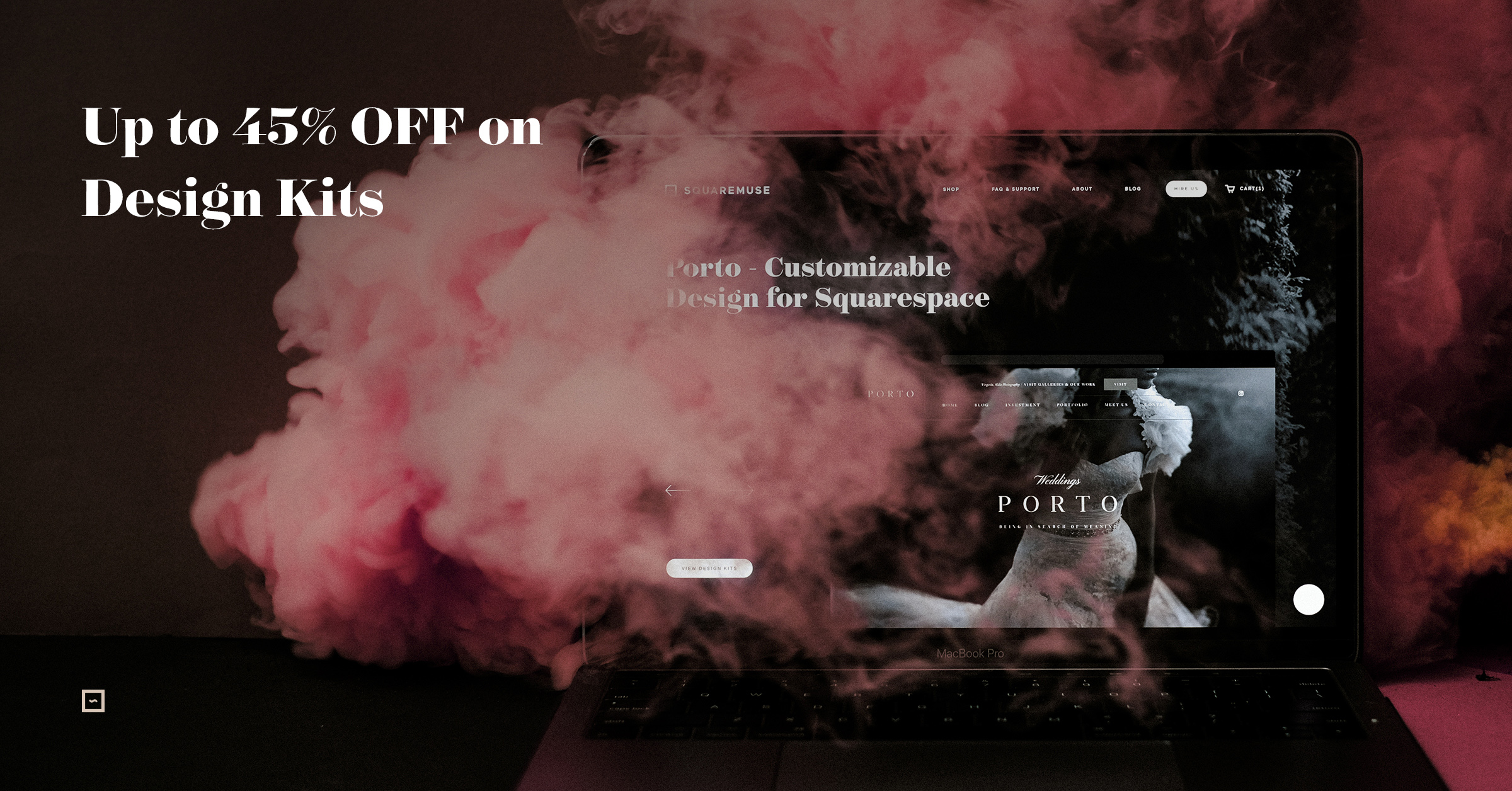 Squaremuse
November 19th – 26th
It's high time you updated your Squarespace site. Purchase Squaremuse design kits for Squarespace with up to 45% discount till end of the month.
Have no time to implement the design kit yourself? Check out our bundle deals and discounts for services.  Save big now and start enjoying more inquiries in 2019.
https://squaremuse.com/black-friday-2018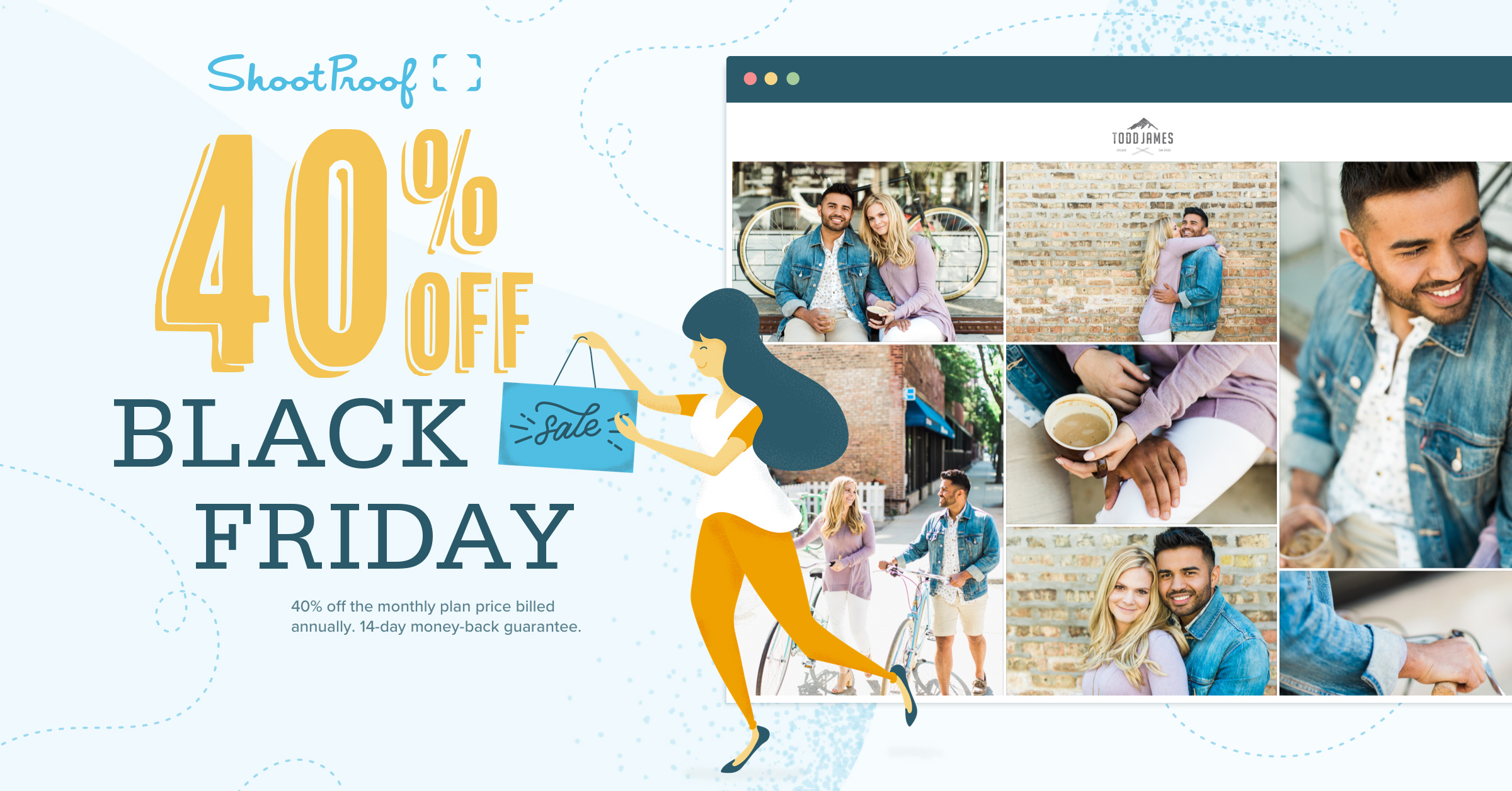 ShootProof
November 19th – 26th
Get 40% Off ShootProof
ShootProof provides stunning client galleries and sales tools that empower photographers to focus on what matters most. Share and sell your photos in customizable galleries, and deliver a better client experience with digital downloads, proofing, printing, and more. Take advantage of ShootProof's Black Friday deal and get 40% off your first year. If you're an existing ShootProof user, you can get 40% off your next 12 months when you upgrade to a higher plan. The 40% discount is based on 12 months of the monthly plan price, billed up front for the year. All plans come with a 14-day money-back guarantee.
Get Started Today!

Swift Galleries
November 19th – 26th
Get $50 off your first year of Swift Galleries.
For only $130, you'll get your first year of Swift Galleries wall art design and In-Person Sales tool; The Path to Printmaker course to switch you from shoot and burn to in-person sales step-by-step; and The Printmaker Coalition Facebook community for monthly coaching & additional free resources.
http://swiftgalleries.com/blackfriday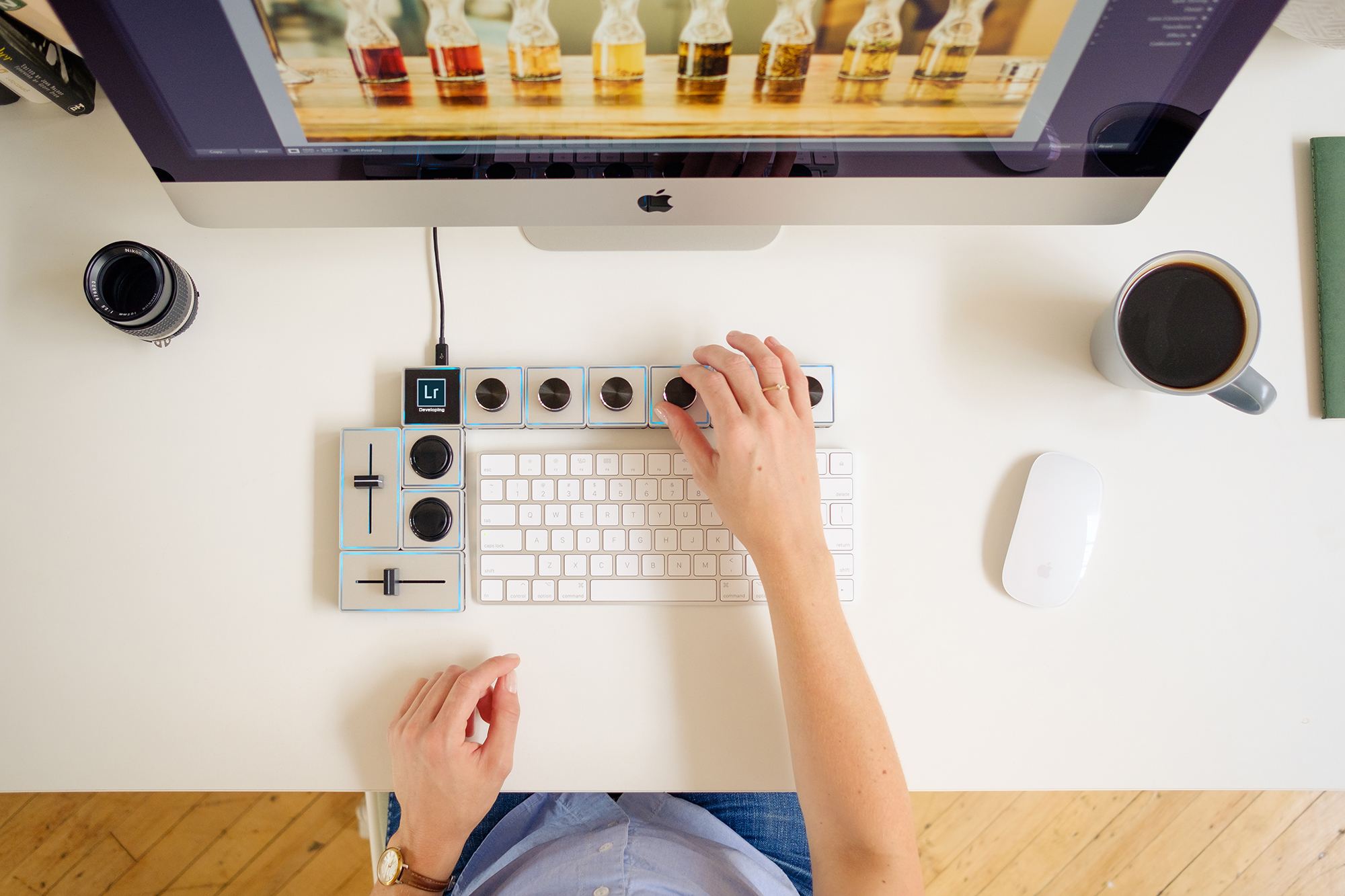 Palette
November 22nd – 27th
Free Slider. Free Shipping. Any Kit.
Get a free slider add-on module when you buy any Palette Kit for Black Friday. Plus get free shipping.
Palette is a system of magnetically connected sliders, dials, and buttons that offer photographers and other creatives a faster, more intuitive, and precise editing experience. Users can fully customize the layout, function, and colour of each module. Palette was designed in partnership with Adobe to work best with Lightroom Classic, Photoshop CC, and Premiere Pro, and allows for custom assignments to support many more applications.
https://store.palettegear.com/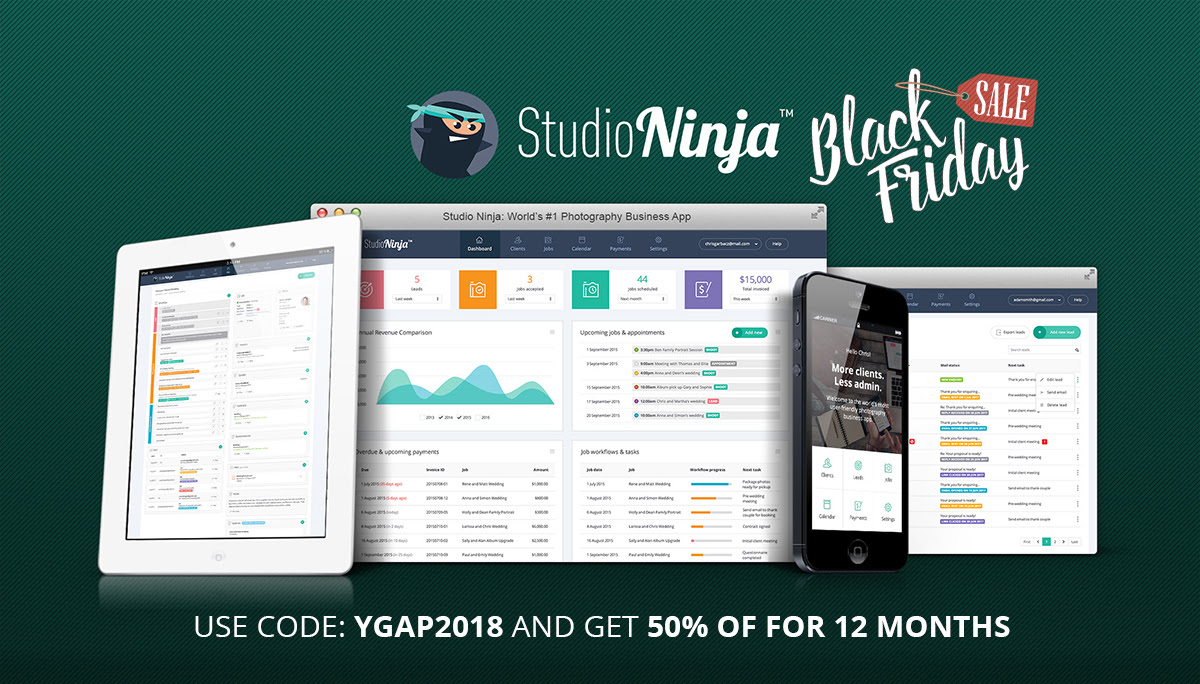 Studio Ninja
November 23rd – 26th
50% off for 12 months
Built specifically for photographers, Studio Ninja is the world's most user-friendly photography business app (web and mobile) and will manage your leads, clients, shoots, invoices, contracts, workflows and so much more! Use the code: YGAP2018 and get 50% off for 12 months!
For every sale Studio Ninja will also double it's donations to YGAP, an international not-for-profit backing entrepreneurs with solutions to poverty in some of the world's toughest communities.
Code: YGAP2018
https://www.studioninja.co/black-friday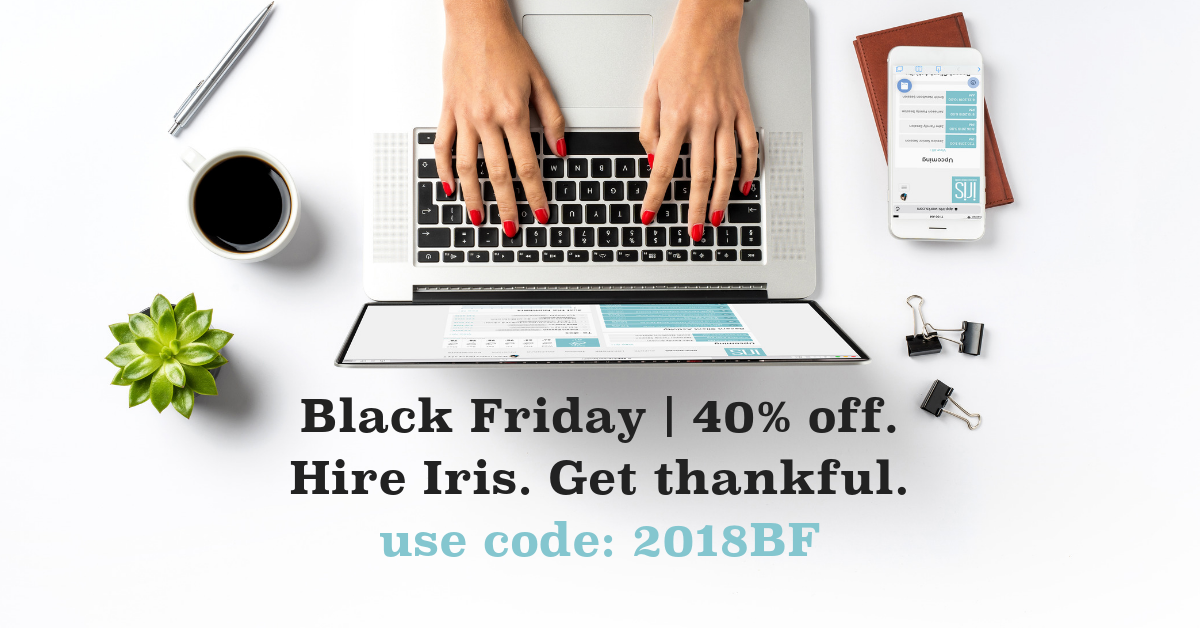 Iris Works
Save 40% off your annual subscription.
Take your business to the next level with the only studio management system you'll ever need.
Code: 2018BF
Sign Up Today

Design Aglow
November 22nd – 24th
20% OFF ALL PACKAGING & ALBUMS 30% OFF SAMPLE ALBUMS.
Stock up on your packaging and album needs for the new year before 2018 pricing kicks in. No exclusions, no limits!
Packaging & Albums: THANKS20
Sample Albums: THANKS30
https://designaglow.com/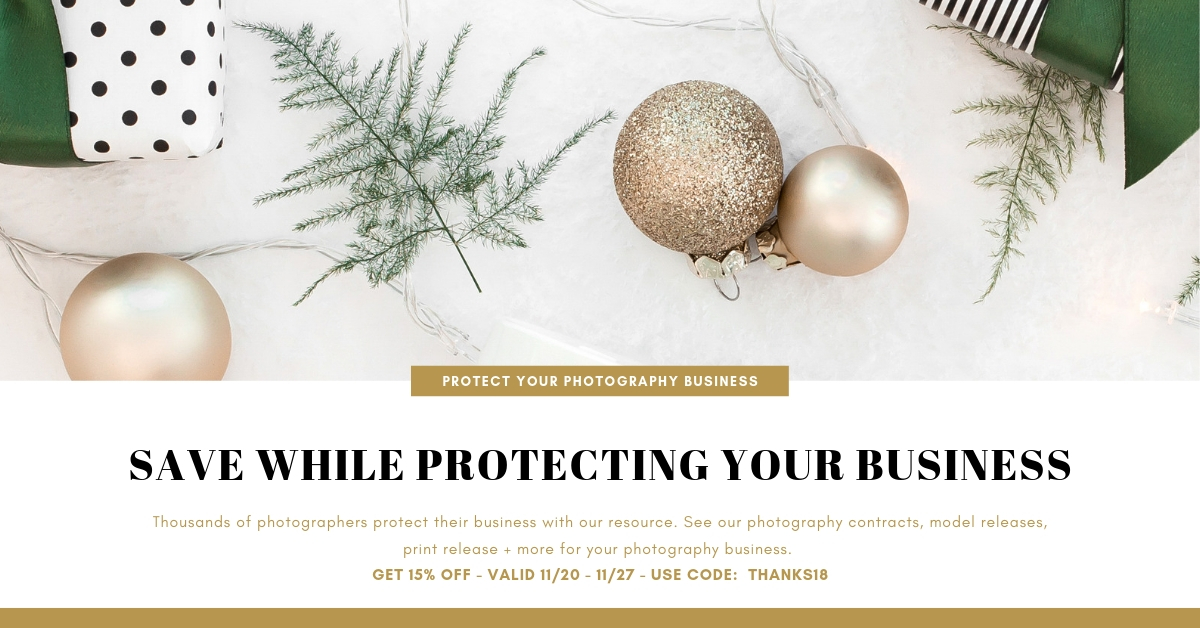 The Law Tog
November 20th – 27th
Save 15%
The Law Tog is headed up by Rachel Brenke. As a photographer, MBA and lawyer, she understands the complexities and fears of running a business. Under her guidance, you'll get the information you need to protect your photography business.
Rachel leads a team of professionals to help provide the best education and tools for your photography business. These professionals include additional attorneys, Certified Public Accountants, Financial Planners, and more!
Code: Thanks18
https://thelawtog.com/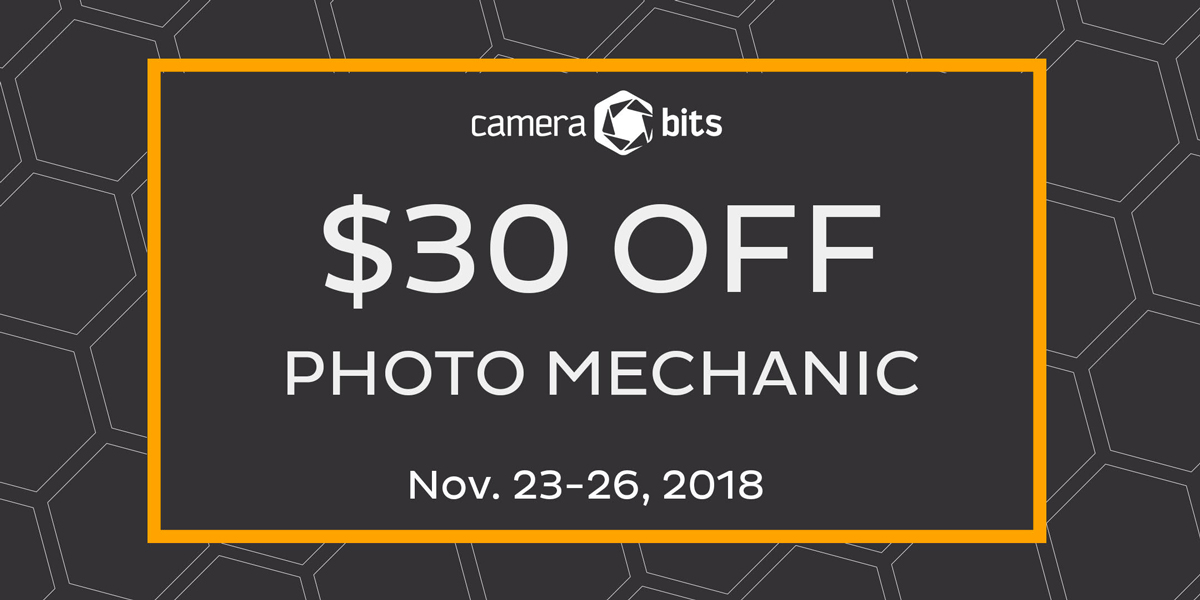 Photo Mechanic
November 23 – 26th.
30% off
Photo Mechanic is a fast media browser that helps you view, organize, manage, and export digital photos.
Shop here.
2019 Yearly Planner for Photographers by The Milky Way
Inside you'll find a guide/planner designed to help you get clear on your photography business (and life!) goals, and help you design a path to get there. Reflect on what went right (and not-so-right) in 2018 and envision how you want to see 2019 to unfold. Then follow the planner to help make it a reality!
And right now, you can get this yearly planner, with over 48 pages of planning goodness for FREE!
https://themilkyway.ca/freeyearlyplanner/
Freedom Edits
10% off all new culling and editing subscriptions. Receive a dedicated account handler, fast turnarounds and incredible consistency when you join Freedom Edits. The 10% off is valid for all of our monthly services including culling and editing.