Spacebar
One of AlbumStomp's core time-saving features is its Mix It Up engine, which allows you to sort quickly through automatically arranged image layouts to find the best one for your design. And we made it even faster by creating a shortcut key! Next time you design an album, drop in some images and then use the Spacebar to cycle through the layout options! It's super fast and helps keep your attention where it's needed on the screen!

Enter
A popular and impactful album design often includes images or collages that fill a page or spread. We've built this feature into our Tools section of AlbumStomp, but we also made it way faster by creating a shortcut key! Use Enter to fill a page or spread with an image or collage!

S, D, and F
Sometimes you want to quickly crop all the images in a Stomp Group to the same ratio — a grid of squares, for instance.  In AlbumStomp we put that control right at your fingertips.  Tap the S key to crop all images in a collage to square.  If you change your mind, you can use the F key to crop them back to full 3:2 (or 2:3) ratio.  Or for a mid-range option, use the D key to crop to a 3:4 or 4:3 ratio.

Drop-and-Split
AlbumStomp has always been great at creating collages out of your sets of images. But did you know that you can drop a set of images on your spread and split the design onto each page?  If you drag images to the bottom half of your spread, AlbumStomp will create one collage with all the images. But if you drag the images to the top half of the spread, AlbumStomp will split the images onto each page.  The best part is that Mix It Up will cycle around your images in different split layouts, showing you even more options with the click of the Spacebar!

+ and –
Perhaps one of my most-used shortcut key sets is + and -, which quickly resize an image or Stomp Group collage up or down. Drop images onto a page, then use + and – to scale the images to the proportion you want, and presto!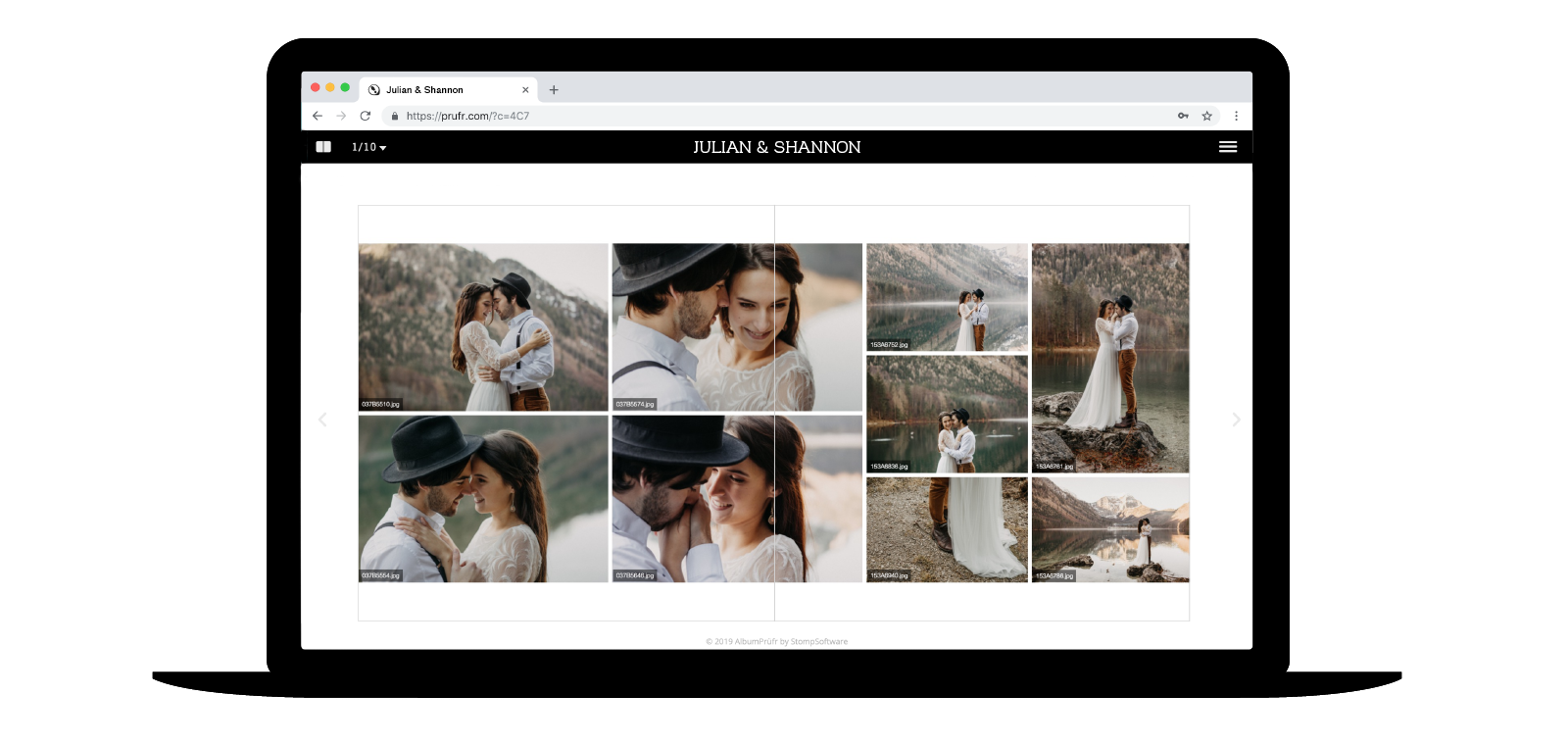 AlbumPrufr
Sadly, there's not much we can do about how long it takes to work through revisions with your clients. But we have done everything we can to make that process as seamless and efficient as possible! AlbumPrufr is our cloud-based album proofing service that allows your clients to view their album design and give feedback on a private website only you and they have access to. Our familiar IM-style feedback section enables you to communicate changes with them and easy syncing from AlbumStomp means revisions happen as fast as possible! While we can't make your clients respond quickly, we can do everything else to help the process go smoothly!
All in all, we've worked very hard to provide you a way to increase sales and grow your business.  And for most photographers, one album sale more than compensates for the purchase price of AlbumStomp, meaning that it is strictly a profit-producing tool from the very start!  Put AlbumStomp and AlbumPrufr to work today and watch your bottom line grow!

Happy Stomping!